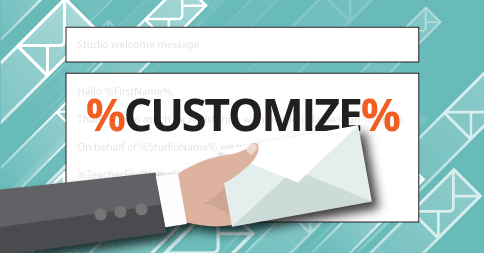 Hello everyone,
This week we're introducing some exciting and highly requested features to My School Books. Now create your own email templates and have them "your way". As well as custom email templates, we're excited to introduce the new scheduling "conflict detection" feature. Never worry about booking 2 students in the same time or place again!
Custom Email Templates:
Custom email templates are now available; you can now define templates and use them when composing an email to your studio. This feature is useful for emails that you need to send periodically to your students, such as a "Welcome" email for new students. You can add templates from the "Email" tab in "Studio Settings" (the same place the standard email templates are stored).
Using a custom template is easy. Start by writing an email to your student the way you've always done. On the email page you'll see a new drop-down list labelled "Custom Templates". Choose an entry from that list and My School Books will complete your email using that template.
We've also added some generic placeholders to emails sent through My School Books (i.e. %FirstName%, %LastName%, etc.). Now when composing any new email to multiple recipients, you can address them individually ("Hi %FirstName%…").
As part of these email improvements, we've retired the "Hide Recipient Email Addresses" option. The email addresses of recipients are now ALWAYS hidden.
Conflict Detection:
When adding new lessons or events to your calendar, My School Books now checks for conflicting with other events on the schedule. If a teacher, student or location is already busy when you try to schedule an event/lesson, My School Books will warn you. This is particularly helpful for multi-teacher studios, as it will help prevent double booking rooms.
Here's a list of the other changes we made this week:
The Income and Expense report will now provide the "Description" as a separate column when it's created in Excel (CSV) format. The description remains combined with the Payee in PDF format to save space on the page.
We've added a "Refund" checkbox on the Expenses and Other Income page. Now if you buy something for your studio and later return it, you can track that refund as a (negative) expense.
The "Edit Other Students, Schedules and Invoices" privilege has been split into two separate user privileges: One for Students and Scheduling, and the other for Invoices and Accounts.
We fixed the RSS link for My School Books studio websites that use a blog as the studio homepage
Accented characters now appear correctly in the tweet text when you use the Twitter "Tweet" button on studio blogs
We've updated the "Change Family" feature (for merging/splitting sibling families). The student names are now included with the parent names to make it easier to distinguish.
We've changed the Student Tax Receipt report so that inactive students can be included.
There is a new invoice option in "Studio Settings" that allows you to display the "Balance Remaining" on negative invoices. This is useful for prepaid studios that use the invoices to provide an account statement to families each month.
We've tweaked the attendance popup. The lesson/event price is now only shown to administrators and teachers who have the "Invoices and Accounts" privilege.
We hope you enjoy the new features and improvements. Have a great week!
– The My School Books Team